When it comes to investing in a hot tub, the size is likely one of the most important factors.
For many families or socialites, 6-person hot tubs are one of the most popular options, and for good reason.
These hot tubs offer enough seating for everyone in the family while boasting ample jet configurations to easily meet your changing needs.
If you're considering a 6-person hot tub but aren't sure which one offers the best soaking experience, we're here to help.
In this article, we're going to share the five essential features to consider when selecting your hot tub, explore six models from Dimension One Spas®️, and we're even going to highlight a bonus model that simply can't be excluded from any list.
Ready to discover your dream spa?
Keep reading!
5 Features to Look For in a 6-Person Hot Tub
Before we start sharing some specific models with you, you'll need to know what to look for to decide if a hot tub is a good fit for your needs and lifestyle.
While size is definitely one of the most important factors, below, you'll find five additional aspects to consider when choosing your new hot tub.
1. Jet Style and Placement
The jet configurations in your chosen hot tub will be significantly influential over your experience each time you step into the water.
Every hot tub has its own jet patterns and often include various style of jets, such as gentle ones that target smaller joints and other ones with moving parts that massage larger muscle groups that may require more pressure.
When considering any hot tub, on or off this list, you'll want to take note of the jet styles and configurations each one offers.
You'll want to ensure your hot tub is able to target the muscles you need it to.
If you have neck pain, you'll want one that includes jets that sit high enough to massage those muscles.
On the other hand, if you stand all day and come home with aching calves and feet, you'll want to ensure your hot tub has a seat that includes lower body jets.
2. Water Management Systems
Water maintenance is a non-negotiable when it comes to spa ownership, but with the right water management system, it can be a whole lot easier.
This system will influence how much work it takes to maintain your spa.
With the right one, you'll use fewer chemicals and spend less time maintaining your water.
While every hot tub comes with a water management system, some boast advanced designs, such as the UltraPURE®️ system that works to keep your water cleaner in more natural ways.
While these systems certainly won't remove the work of maintaining your spa completely, and you'll still need to keep up with testing and treating your water, they are powerful additions to consider.
3. Seating Style
The style of seats in a hot tub come in two distinct styles, which you've likely already been thinking about:
Many models are designed to include at least one lounger, however, some provide open seating throughout, giving you extra space for the kids to splash around or maximize seating.
One of the biggest determining factors in which seating style you want in your spa generally comes down to whether or not you want to put your feet up and lay back for a relaxing full-body massage.
If you'd rather sit upright but don't want to miss out on a shoulder-to-toe massage, don't worry. Loungers are not the only way to enjoy a full-body experience.
There are plenty of spas that include an upright seat with a jet configuration that targets all the major muscle groups.
4. Control Systems
Control systems vary from model to model, with some being more advanced than others.
Every control panel will allow you to adjust your jets and spa's LEDs while also communicating with you about how your system is functioning.
On the other hand, some models boast advanced systems that provide you with additional control over the features of your spa.
Furthermore, many models from Dimension One Spas®️ include a secondary control system called the Dynamic Massage Sequencer™️ that specifically controls your massage experience in the UltraLounge™️ Therapy Seat.
5. Water Features
If you enjoy the ambient sounds of trickling water while you relax or simply want your spa to leave guests in awe with an unexpected display, water features are worth considering.
Dimension One Spas®️ offers an impressive range of water features, from interchangeable fountains to waterfalls, and even advanced systems like the LiquidFX™️ that incorporates stunning LEDs into the fountains!
6 Person Hot Tubs Making a Splash in 2023
Now that you have a picture in your mind of what it is you'd want in a spa, it's time to explore some of the best options available from Dimension One Spas®️.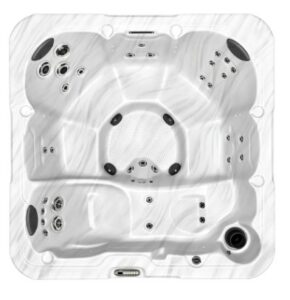 Dream™️
The Dream™️ is a stunning 6-person hot tub that includes both upright seating and a lounger.
This model includes a unique footwell with tactile therapy embedded into it, easing your weary feet every time you step into your spa.
Boasting a total of six different jet configurations, finding a seat that targets your aching muscles won't be a challenge.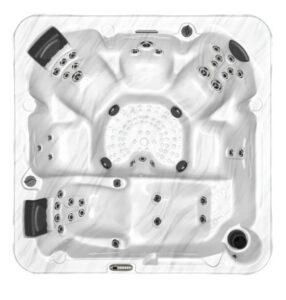 Latitude™️
This spa was built with comfort in mind.
Outfitted with the UltraLounge™️ therapy seat, the Latitude™️ provides a soothing full-body massage experience that even targets aching wrists.
To bring your relaxation even further, two of the seats include Dimension One Spas®️ exclusive Jet Therapy Pillow™️.
Simply sit back and wash your worries away as your neck is treated to a powerful, one-of-a-kind massage.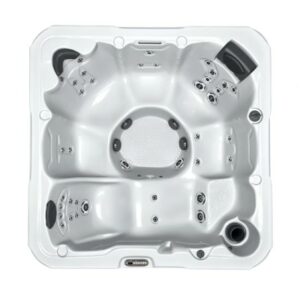 Wayfarer™️
The Wayfarer™️ has been thoughtfully designed to fit a variety of bodies.
With a deep seat paired with the patented Jet Therapy Pillow™️, taller people can enjoy a powerful massage that will feel like it was made exclusively for them.
Across the spa, you'll find a shallower set seat with a comfortable curve design to hug the hips, while the pillow is nestled into a unique corner with shoulder jets for a more gentle massage.
To take your relaxation a step further, this model includes a full lounger and a sleek waterfall, so you can lay back and listen to the gentle flow of water while you're treated to a full body hydromassage.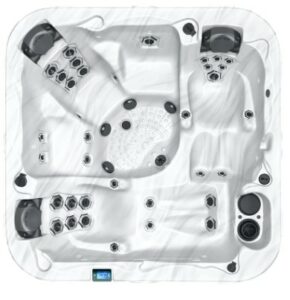 Diplomat™️
If you're looking for a 6-person hot tub that boasts a stunning design and ensures water maintenance will be a breeze, the Diplomat™️ is the perfect model.
Outfitted with the UltraPURE™️ water management system, you can feel confident in the quality of your water and enjoy its crystal-clear depths with less work.
To elevate your experience even further and ensure your spa can meet your changing needs, this model boasts stunning accent jets.
These jets were designed to allow you maximum control over your jet pressure. With a twist of your wrist, you can quickly adjust the water pressure to create the perfect massage experience.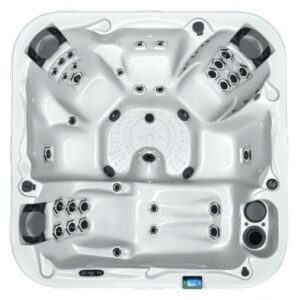 Chairman™️
With the D1®️ SmartHUB™️ Control panel, the Chairman™️ is making it simple to manage your system both in and out of the water.
With the UltraLounge™️ Therapy Seat that's equipped with the Dynamic Massage Sequecer™️, you'll be able to switch up your massage experience to easily meet your needs, day to day.
Even better, if you want to bring a top-tier water show to your backyard, this spa is the way to go!
You'll be pleasantly surprised to discover the water fountains in this spa are integrated with Liquid FX™️, bringing colorful displays to your backyard.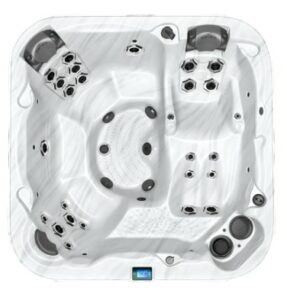 Aurora™️
The final 6-person hot tub on this list is the Aurora™️.
With contoured seating throughout to hug your body each time you settle in for a soothing hydrotherapy session and the UltraLounge™️ Therapy Seat, you'll never want to leave the water.
Take control of your massage by adjusting the accent jets, or use the Dynamic Massage Sequencer™️ to expertly target the muscles that need care the most.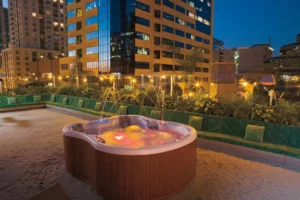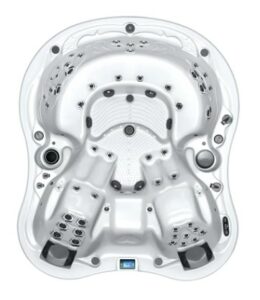 Special Mention: Amore Bay®️
While this hot tub is actually fit for seven, we couldn't possibly leave it off this list.
With its exclusive, one-of-a-kind curved design, the Amore Bay®️ hot tub is sure to be an eye-catching addition to your backyard.
With two upright lounge seats for side-by-side full body massages, and a curved bench spanning across the entire other side of this spa, it's the ultimate model for any lifestyle.
Better yet, from every seat in this spa, you can treat your feet to a luxury therapeutic treatment as you step on the tactile footwell.
6 Person Hot Tubs in Hampton, New Hampshire
Did one of the above spas catch your eye?
At Bemister's Pool & Patio, our showroom is stocked with industry-leading hot tubs from Dimension One Spas®️.
Whether you want to explore one of the above models in person or discover the others we have lining our showroom floor, our team of experts is happy to help you find your dream spa.
With three locations throughout New Hampshire, including Salem, Litchfield, and Hampton, we're sure to have a convenient location new you.
Contact us, or visit your local showroom to begin embracing the benefits of hydrotherapy today!