Installing a luxurious pool in your backyard does not need to be expensive! Gone are the days when your options were between the lesser of two evils.
Either you dug up your backyard and committed to an expensive renovation, or you went to the local department store every year to make-do with a cheap one-season pool to get by for the summer.
The lineup of above-ground pools at Bemister's Pool & Patio are not only affordable, but also offer a permanent, luxury solution that solves this age-old dilemma.
Why consider an above-ground pool for a permanent backyard investment?
Read on to find out!
Above-Ground Pools vs. In-Ground Pools
When comparing the difference between above-ground pools and their in-ground counterparts, there are five major factors to consider.
After comparing these aspects, we think you'll agree that an above-ground pool is easily the premium summer solution!
1. Affordability
In-ground pools require expensive retaining walls, leading to an exhaustive excavation and major reconstruction of your backyard after it's installed.
The cost and quantity of concrete needed to install an in-ground foundation is also a major factor. Above-ground pools do not require special reinforcements.
Furthermore, due to their construction, maintaining an above-ground pool is also easier on your wallet.
Above-ground pools require less chemicals, and their mechanical components are easily accessible if something wears out.
They also require less water, and use less energy than their built-in counterparts.
2. Installation Time
Utilizing new technologies in materials and construction, above-ground pools are designed to provide stability and safety while offering simple installations.
The components used to build an above-ground pool are sturdy, which leads to installing fewer elements to complete your design.
3. Flexibility
By choosing an above-ground pool, you're also choosing the freedom to relocate your backyard lagoon if the need should arise.
Additionally, you'll have more options regarding the space to walk around it, as well as more opportunities to utilize the remaining space in your backyard.
4. Similar Features
Above-ground pools are actually equipped with the same "enhanced" features that in-ground pools offer such as vinyl liners.
Tough-to-tear heavy gauge vinyl liners are standard in pools of all styles these days.
These liners also incorporate the same UV protections as in-ground liners, and are available in a variety of eye-catching patterns, too.
5. Safety First
In-ground pools add an additional layer of danger to your backyard, and require extensive safety features.
Because of this, they can even result in your home insurance needing to be adjusted to accommodate it.
Above-ground pools create a more mindful atmosphere, sitting well within your peripheral vision.
Additionally, friends and family are less likely to dive in, naturally encouraging a "feet first" approach to swimming.
Above-ground pools can even reduce the need for fences and gates, however, it's important to check with your town's requirements to ensure your pool meets their outlined standards.
Overall, the above-ground style means your backyard can be a safer space for your children and pets.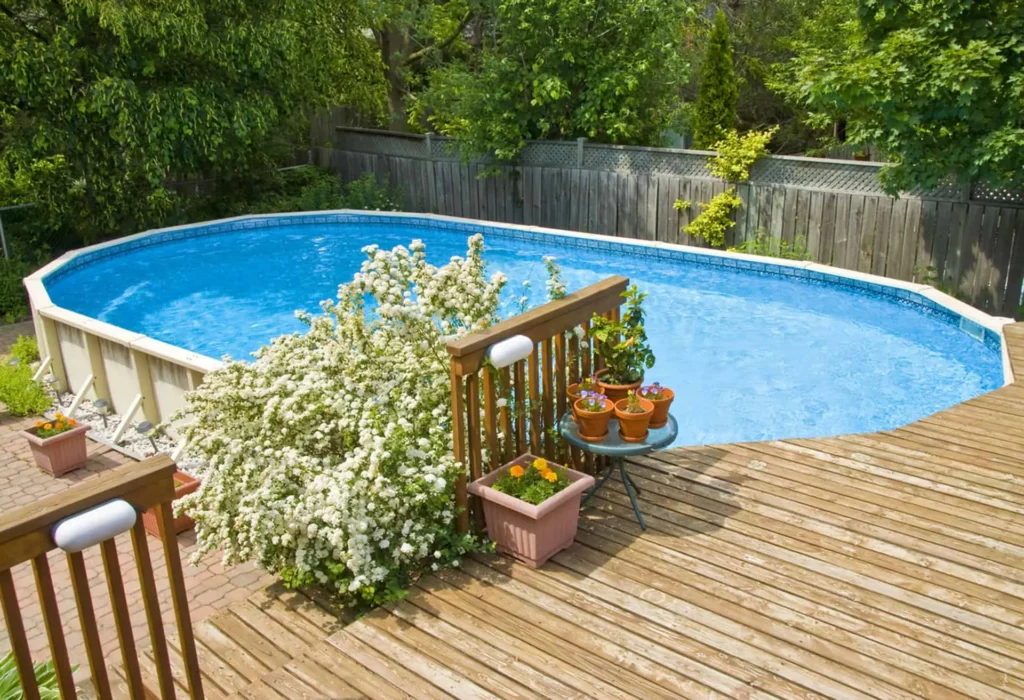 Choose a Premium Above-Ground Pool When You're Looking for Top Class
When your goal is affordable excellence, you'll want to consider the Sharkline Premium™ Above-Ground Pools collection.
With these pools, you can look forward to high-quality engineering and design because of their strength advantage.
The Oceanic RTR
Sharkline's Oceanic RTR above-ground pool is considered best-in-class.
Its 10-inch curved top ledge provides a comfortable grip, while inside the ridge is an unseen layer of protection that goes beyond safety.
Leading edge gas-injection technology is at work here, utilizing internal channeling to combat stress points.
The same gas-assist injection technique is also used to reinforce vertical load supports and horizontal rib structures.
But, that's not all! This superior-strength integrity is also combined with the exclusive Sharkline Premium™ Advantage Construction System.
By reducing the span between upright supports, the amount of force on each one is reduced by 15%.
But does it look like luxury?
You'll love the attractive taupe color of the resin finish, considered to be a favored neutral tone by many pool owners.
As an added bonus, the Oceanic RTR above-ground pool boasts 9-inch printed Damask uprights.
It also features stainless steel hardware to guarantee you will not find any unsightly rust spots from corrosion.
Ranging anywhere from 15-foot round to 20×41-foot oval shapes, the Oceanic RTR premium above-ground pool is sure to complement your luxurious tastes.
The Mission
The Mission pool is a model from Swim Above Ground, and is not one to be missed.
A premium above-ground pool from their Hybrid Series, this pool is truly an element of paradise, combining the best of both worlds with premium pool technology.
Look forward to relying on the strength of steel, while enjoying the aesthetically pleasing finish of resin–a union that is sure to last many years.
The 8-inch injection molded decorative top ledge is gently curved, offering strength along with a pleasing shape to this premium design.
Best of all, with its Castella-patterned walls, you can enjoy a classic, yet stylish appearance!
Available in a 12-foot round up to 18×33 foot oval, you will have no problem finding exactly the right above-ground pool for your greenspace.
Thanks to advanced engineering, the Mission above-ground pool is a premium option that will offer you reliability, for decades to come.
Bemister's Premium Pool Accessory Package
When you choose one of these two pools at Bemister's, you can take advantage of our exclusive premium pool package.
This package makes preparing to care for your new pool effortless, boasting a range of accessories and supplies you can't go without, such as:
Automatic Pool Cleaner
Underwater Pool Light
Liquid Solar Blanket
Telescopic Utility Pole
Pool Safety Signs
Deluxe Test Kit
Winter Pool Cover
And so much more!
Cash in on over 30 essential tools and accessories to keep your new luxury pool in tip-top shape.
We'll even include your choice of chemical package; Frog Leap, Baquacil, or Smart Sticks.
But don't stop there! If you want to truly glam up your backyard oasis, an all-star pool is just the beginning.
Let's explore some great ideas on how to turn your above-ground pool into the definition of indulgence!
Tips to Flawlessly Add an Above-Ground Pool to Your Home
Did you know, one of the most common reasons people opt out of a permanent above-ground pool is because they don't like to see it sitting exposed in their yard?
Back to our affordable luxury theme, it doesn't have to be that way! There are a few ways you can combat this, depending on your preferences.
1. Modify Your Existing Deck
A pool deck doesn't need to completely surround your new above-ground pool.
If you have an existing deck in your backyard, the process of adapting it to function with your pool can be relatively simple.
2. Landscape if You Don't Have a Deck
Not everyone has an existing deck, and not everyone wants one. That doesn't mean you need to keep your above-ground pool bare and simple.
Help your pool blend in with the existing greenspace you already love to spend time in, by adding a simple garden bed with your favorite shrubs and flowers to dress up the perimeter.
3. Create Dimension with Lighting
LEDs are now a common, affordable solution for homeowners who want to add dimension and ambiance to their backyards.
By installing outdoor lighting around the perimeter of your pool, you can achieve a luxurious hotel-chic atmosphere, right in your own backyard.
Even better, combine these ideas to achieve a stunning look, with softer lighting nestled in your greenery, and spotlight LEDs to highlight your beautiful new pool.
Amp Up Your Summer Fun with These 6 Exciting Backyard Accessories
If you want to go beyond beautifying your above-ground pool, there are many fun options that fit the budget!
Swim-Up Bars
If your above-ground pool is going to become the local entertainment hangout, you might consider building a swim-up bar.
Bring your favorite resort home by serving your friends their favorite cocktails poolside.
Patio Life
Extend your deck-space into your yard with the simple addition of a few patio stones beside your above-ground pool.
Additionally, consider adding a picnic table or a full dining set in your outdoor space to maximize the versatility of your backyard for family gatherings.
Social Areas
Continue your patio theme and add a sectional or conversation set to compliment your above-ground pool.
Whether entertaining friends, or hosting a family reunion, you will be able to accommodate a small army without feeling crowded.
Family Fun
Another affordable option for family-minded lifestyles is to dedicate storage for pool toys and accessories! Stock up on pool noodles, beach balls, bodyboards, and even water guns.
An outdoor toy box or small shed is an economical solution for keeping luxury-fun at an arm's length.
Here are a few games to inspire some supplies you might want to include:
A floating waterproof ball to play keep away. One chosen person is not allowed to touch the ball. It's up to everyone else to keep it away!
Non-metallic weighted toys to play treasure-hunter. We recommend plastic toy cars, or even bean bags.
Ping-pong balls and a Sharpie. Number them, and guide blindfolded participants using "hot or cold" to find them in order.
Reusable water balloons. Outfitted with ingenious magnetic spheres that automatically close to contain water, these balloons offer a great eco-friendly solution to their traditional counterpart.
Summer Food
Whether you're hosting a few friends, or you're this year's location for the neighborhood block party, you'll need to keep up with demand!
If your tired old barbecue can't endure, upgrading your grill to a luxury model is an affordable way to keep your pool party satisfied.
If your new above-ground pool is situated next to the enticing aromas of your cookout, you'll be able to sustain the momentum without relying on your indoor kitchen to take up the slack.
At Bemister's Pool & Patio, we carry a selection of Weber outdoor grills goes above and beyond.
Plus, we carry a massive variety of barbecue accessories, making it easy to elevate your summer food experience.
Pool Parties
Long weekends don't need to be the only excuse to kick up the party! Graduation, birthdays, and anniversaries are all very important milestones to celebrate.
Get into the backyard spirit, and use your new above-ground pool to plan an affordable yet luxurious theme.
Opt for a luau, and dress your pool with flower leis. Serve pineapple cocktails at your swim-up tiki bar, and rotisserie a roast to offer pulled-pork bunwiches.
Or, transform your backyard into an extravagant spa on ladies night! While floating around the water to work on your tan, pamper each of your girlfriends with poolside spirits.
Affordable Above-Ground Pools at Bemister's Pool & Patio – Serving New Hampshire, The Merrimack Valley, and Beyond
Bemister's Pool & Patio can offer you luxury above-ground pools at affordable prices. With three locations to serve you in Salem, Litchfield, and Hampton, our selection can't be beat.
We're your one-stop destination for luxury outdoor fun and have everything you need to glorify your backyard, offering a wide range of outdoor leisure products.
A family business since 1942, Bemister's Pool & Patio is proud to uphold a strong reputation for high-quality backyard leisure at affordable prices, all year round.
Dive into affordable luxury with us today!