Whether you're playing a chill game one-on-one or are hosting a nail-biting tournament with your friends, you'll want the right accessories to make it a game to remember.
Having the best pool table accessories can elevate your game room, adding a wow factor that'll leave an impression on everyone who comes to challenge you to an exciting match!
If you've been looking for the perfect accessories for your pool table that can enhance your gameplay and your space, you've come to the right place.
In this article, we'll discuss essential pool table accessories to add to your game room, ensuring you're ready to host the best games possible!
The 10 Best Pool Table Accessories You Need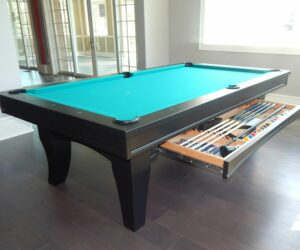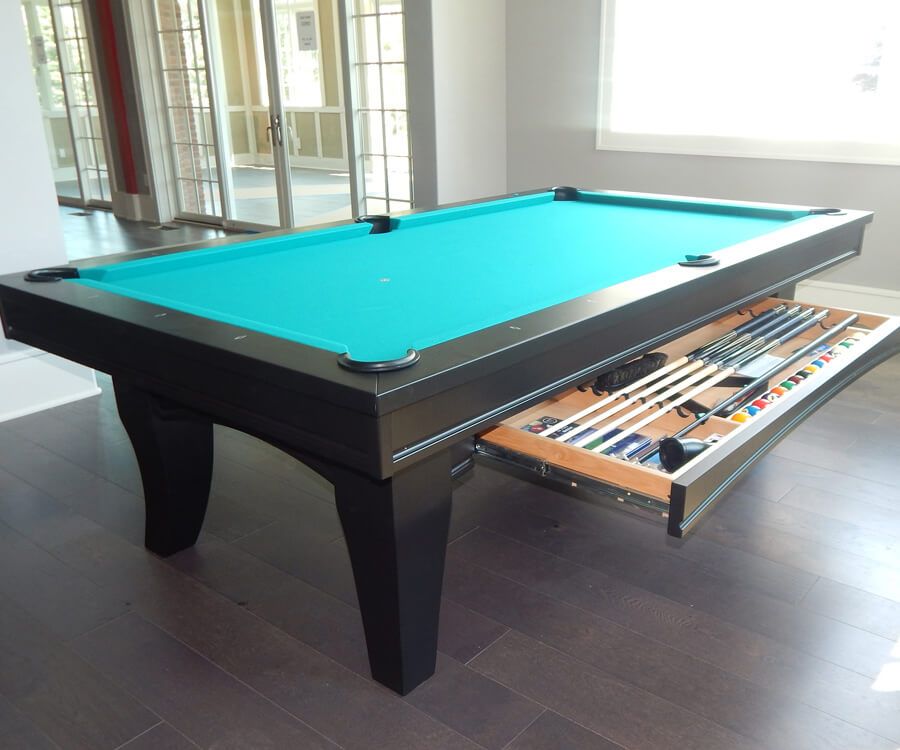 Some pool table accessories on our list are strictly for adding an extra element of excitement to your game room or making it more enjoyable when hosting intense tournaments.
Others on the list, however, are necessary additions to keep your room looking organized and classy!
Let's get into it!
1. A Break Cue
It's a well-known fact that the quality of the break will determine the entire play style of the game, and you'd be hard-pressed to find anyone who enjoyed playing off a less-than-ideal break.
While you can certainly take your first shot with a traditional cue, investing in a specifically designed break cue can make your first hit a power move that'll leave you with a great spread to play off!
Break cues are designed to be thicker and heavier than a playing cue and have a bigger tip to make breaking easier (and more impressive) than ever. Adding one to your game room is a surefire way to ensure every game begins with endless options!
2. Pool Table Cleaning Supplies
Keeping your pool table clean is essential in maintaining an exceptional game.
You can do this in a few different ways, and which one you choose will simply be your personal preference.
A pool brush is one of the most common tools used, and most tables come with one included. When it's time to buy a new one, ensure the bristles aren't too harsh to avoid causing any damage to your table's felt. Using a brush is a reliable way to remove any dirt or dust that's built up on your table and keep your felt smooth.
You can also include a felt cleaner or pool table cleaning spray. Many of these sprays are easy to use. You simply spray your table and wipe it off. These sprays are especially helpful in removing any chalk stains, dirt, or dust that have gotten on your felt.
While these sprays eliminate the need to brush your tabletop, you should still include a pool brush in your arsenal. They're incredibly helpful in cleaning any difficult-to-reach dust that may have built up under the rails of your table.
3. Ball Polish
Keeping your billiard balls in perfect shape is essential for them moving across the table as they should.
If your pool balls are dirty, whether from the chalk or from oils and grime from being handled, they won't perform their best. This could leave you with unpredictable movement when making a precise shot, possibly missing the pocket and leaving you frustrated.
Not only will keeping them clean ensure you maintain the quality of your game, but it'll also help them last longer.
4. A Cue Rack
A cue rack is one item that should always be included in your game room. Not only will it keep your space neat and tidy, but it also adds some dimension to your room!
These racks can be used as statement pieces and come in all shapes and sizes.
If you want something that makes them easy to access while keeping them neatly on display, consider adding a circular cue storage table. These tables will keep your cues standing upright and low to the ground, so it's easy to grab your favorite one and start your next game.
If you want something bolder, consider investing in a wall rack. These racks generally come in two styles. Some have closing doors to hide your cues, while others are exposed racks, making your cues a decorative piece on your wall when not in use!
Additionally, if you want to add an extra element of fun to your game room, consider adding a cue rack with a hidden dart board! Not only will your cues be stored safely (and attractively), but you'll also be able to easily include a secondary game to your parties.
5. A Billiard Ball Wall Rack
This can be a great addition to any game room!
These wall racks for your pool balls can be an impressive statement piece and add an element of sophistication to your room.
Adding your billiard balls to a wall-mounted display will give your game room a vibrant pop of color while adding a bold, eye-catching accent!
Not only that but keeping your balls stored properly will help ensure they stay clean and free from damage. This also serves as a unique way to maintain a tidy room that's ready for unexpected visitors at any time.
6. A Magic Rack
Whether you switch between 8-ball, snooker, or a classic round of billiards, you'll need a rack that can adjust to each style.
That's where a magic rack can come in handy!
Since different types of pool games require a varying number of balls, these racks adjust to match the number of balls required for each one. This ensures each game will begin with perfectly racked pool balls.
Because this rack is adjustable, it also helps ensure your set is tight, ensuring your break is as effective as possible.
7. Chalk Pouch
Have you ever gone to start a game only to realize you have no idea where your pool chalk went?
You're not alone!
Pool chalk is small, making it easy to lose or misplace, and no game of pool is complete without it. After all, a slippery pool cue tip isn't going to help keep your shots accurate or powerful!
Adding a sleek chalk pouch to your pool table will ensure your chalk is always easy to find.
They come in all types of styles, so matching on to your aesthetic won't be difficult. Consider a black velvet pouch or an elegant retractable version to easily hang off your pockets for easy access from any corner!
8. Pool Cue Tip Tools
The tip of your pool cue is the most important aspect of your game.
If your tip is loose or broken, your shots won't be accurate and can make your game more frustrating than enjoyable!
To avoid this, you should include a pool tip repair kit, so you're ready to combat this as soon as it occurs before it interferes with your game.
These kits usually include tools to help re-tighten your tips should they come loose, treatment tools like scuffers and top sanders, and replacement tips.
Additionally, you can include specific tip tools to make caring for your cue easy, maintaining its quality long-term.
There are various small multipurpose tip tools on the market, often including a shaper, scuffer, and top pick. As an added bonus, due to their small size, they are easy to bring along if you're heading out for a game at the bar with your friends!
9. Billiard Gloves
If you suffer from sweaty palms or just want better control over your cue, a billiard glove will be your best friend during any game!
These gloves typically come with an open side for your last two fingers, making them ideal for supporting your cue, keeping it steady as you line up your shot while still letting your skin breathe.
They are overall inexpensive to purchase, so adding a few to your arsenal is always a good idea. This way, you can have even the most obscure pool table accessories for your friends during your next tournament night!
10. Pocket Reducers
If you're looking for a great way to make your game more challenging or simply want to improve your precision, pocket reducers are a must.
These reducers simply slip into the pockets of your pool table, reducing the opening for the ball and making it more difficult to successfully make your shot.
Including pocket reducers in your training offers a powerful, inexpensive way to work on your technique and become a better player before your next tournament!
Professional Pool Tables For Sale In New Hampshire
Bemister's Pool & Patio is your one-stop shop for everything you need to design a show-stopping game room! We proudly stock both Brunswick Billiards and Olhausen Billiards, two brands that are leading the industry.
With three convenient showrooms throughout the New Hampshire area, we've got a location that can serve you and a team of experts to help you discover the backyard leisure essentials you've been dreaming of!
Contact us or visit your local showroom today!